I've been passionate about makeup since my childhood.
My passion towards make-up and beauty dates back to my childhood. My interest was evident as a toddler who loved to experiment with colors. Coloring gave me the opportunity to explore as an artist. Growing up, I remember watching daytime television and admiring the actresses' make-up and beauty. This is what inspired me to venture into the industry.
A childhood dream has since grown into a lifestyle; and my passion for beauty has allowed me to pursue the career of my dreams. After extensive training and education at Elizabeth Grady Esthetics & Makeup Artistry School in make-up and skin care, I have applied my skills as a freelancer and also a business owner.
I've had many wonderful times freelancing and contributing to brides' lifelong memories. Connecting one-on-one with the bride is key as being a part of her special day is truly amazing. A happy bride makes all the hard work well worth it. It's very rewarding.
Transitioning into a business owner, I work from the same value as freelancing. My priority is excellent service, not competition with other companies and make-up artists. I feel this positive attitude, combined with my special blend of application, primer and setting sprays, is what sets me apart from the others. I hope to continue growing my business, bringing several other make-up artists on board, as well as establishing a make-up line to accompany my lip gloss selection. This really has been a dream come true!
Contact Me for a Preliminary Consultation
Hours: Wednesday & Friday 6pm – 8pm, Saturday & Sunday 9am – 6pm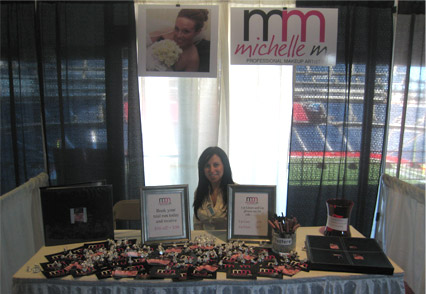 Foxboro Bridal Event / Gillette Stadium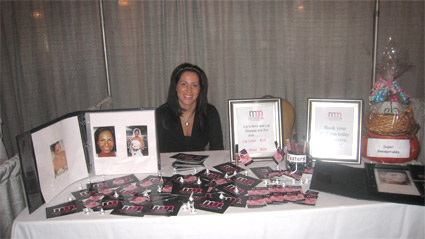 Great Bridal Expo / Boston Park Plaza
Highly recommended!
Highly recommended! Michelle was so professional and really fun to work with! Everyone's makeup was flawless and natural. I would recommend her to any bride!
A great experience!
Michelle was nothing but a positive part of my wedding planning/wedding day from the moment I sent my first email to her inquiring about her make-up services. She answered all of my questions in a timely matter, had reasonable costs, not to mention she is did my make-up wonderfully for my trial and on my wedding day. She also did the entire make up for my 8 bridesmaids and two mothers and everyone was happy with the results. She was very sweet to everyone and kept on schedule. I would definitely recommend Michelle to any future brides.
Amazing!
Michelle was a great make up artist! It lasted the whole night. She was very accommodating and new just the right look for my wedding. I would definitely recommend her to other brides!
SHE IS FABULOUS!!!!!
She completely accommodated my personality. The make-up she applied complimented me in a way no other make-up artist has done. She also made the rest of the wedding party of 8 look flawless. I have since had her do my make-up for special occasions and also for my children's recitals. No matter what the occasion she knows exactly what to do. To top it off she is professional & super sweet!!
Perfection!
Michelle was amazing…she is professional, punctual and wonderful at what she does. She did make for me and 7 other girls – everyone looked stunning!! She will make you feel so beautiful on your wedding day!
FLAWLESS JOB!
Michelle did my makeup for my wedding and it was AMAZING! I got so many compliments that day on how flawless my make up looked. She was definitely a pleasure to work with. I would def recommend her to anyone in need of a great makeup artist.
Michelle M is the best!
Absolutely gorgeous work! She does the most natural and tasteful make-up I've ever seen. I recommend her to everyone!!!
Michelle's a must!
I'm not a makeup person at all. My idea of makeup is some lip gloss, and I'm on my way. When I was searching for someone to do my wedding makeup, I was looking for someone who would give me a soft, natural look. I didn't want to show up at my wedding and be unrecognizable. Michelle got the look I wanted immediately. At our trial session, she took her time and explained her every move. She used her expertise and style and chose colors she thought looked best with my skin tone. When she showed up at my house the afternoon of the wedding, she was sweet, professional and very efficient. My makeup looked very natural and was exactly what I wanted. I highly recommend Michelle as your makeup artist for your wedding. You definitely will not be disappointed!
Beautiful job!
Michelle did such an awesome job on my makeup and the makeup for my mom, mother in law and sister! Everyone looked great and natural and photographed beautifully. Michelle was very nice and professional and I would definitely recommend her to any future bride and her bridal party!
AMAZING!!!
I love Michelle. She is professional and the work she does is so natural. She has done my makeup for at my brother's wedding and at my own and I am more and more impressed each time.
Love her!!!!!
Michelle did my make-up for my wedding in 2006, and everytime I look at my pics or video, I'm so happy at the great job she did! You would be crazy to not use her. Not only is she so sweet, she did the best job ever! I NEVER fixed my make-up the whole night, it was perfect and not too much… just perfect! I am 100% happy!!!
I felt like myself AND a bride
Michelle does natural and beautiful make-up. She is really flexible about your schedule and super sweet. I could recommend her to any bride.
Michelle is AMAZING! Definitely would recommend!!
Michelle was so great!!! She was patient with everyone and very professional. Her products were amazing and she was very clean; consistently washing her hands. She was just so easy to talk to and listened to what I wanted but also gave some of her own advice so my makeup wouldn't stand out to much and would look appropriate for the event. I thought it looked amazing and it definitely lasted all night and into the next morning. My now husband and I had a flight early the next morning for our honeymoon to Aruba. I was hoping that my wedding makeup would last into the morning since it looked so great that night. Well it did, and it was so nice to still have some of that wedding look the next day. Once the day is really over, it's kind of sad to know that's really it-having my makeup still last made me feel like a bride for a little longer. Overall Michelle is perfect especially for her price. I called her pretty last minute due to a cancellation I made with a prior artist that I knew just wasn't right for me. I wasn't able to have a trial with Michelle and even with that – she still did an amazing job. I would definitely recommend her to other brides. She is personable, friendly, clean and best of all – talented. Thank you Michelle for great wedding makeup and a great experience overall!!!